What's in our cupboard & freezer?
Gluten-free treats and savoury!
I'm not going to mention about prices here, but you can still click the name of the products & go have a look at more information :)
It's because I believe everyone deserves some bits of treats sometimes without feeling guilty thinking about how cheap or expensive they are :)hehe
Now, here is the list of GF food that we love and currently in our cupboard! :)*
* Though I couldn't help adding some bits of items that we don't have now but we absolutely adore!
Cereals
Ok, so here comes our first favourite gluten-free treats!!
Our cupboard at the moment is overloaded with cereals :D!
Cereals from
Nature's Path
all seem to be delicious without any exception :)
Especially, this
Choco Munch
&
Mesa Sunrise
are must-try :)
We haven't opened the O's & Dove's Chocolate Stars yet, but my expectations are high :)
We LOVE granola.
Yes, we can find gluten-free rolled oats in many places, and we've made our own granola which were delicious.
But this granola from the Co-operative is superb :) We especially love tropical fruit version but sadly we cannot find it anymore! Anyways, these are absolutely delicious so it's definitely worth giving it a try :)
Gluten-free Corn Flakes (500g)
from Nestle is very light and lovely too, plus it's very reasonable considering its amount! :)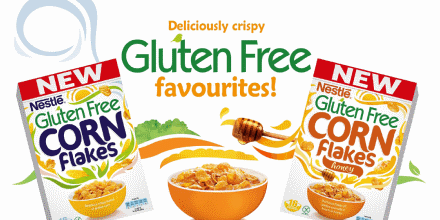 Juvela's flakes: This is our cupboard veteran:) We used to get them from pharmacy as
David's doctor prescribed them for him before :) They are made from rice & corn, and has a lovely crunchiness!
Sweets
David & I both have sweet-tooth so we've tried many gluten-free sweets from various supermarkets, but these are definitely our stable favourite :)
Triple Chocolate Cookies
Aww, this is such a naughty one :D
These are not only normal chocolate cookies, but have milk, dark & white chocolate & the bottom is coated in more chocolate! It's pretty moist too ++:)
We usually get similar but different own-brand products from the Co-operative & TECO :)
The item in the picture was sold in the co-op which is
Prewetts
', but they are as lovely as any other triple chocolate cookies :)
Custard Cream
(
ds gluten free
)
Thinking about this makes my mouth water :D This is very creamy, and has a lovely gorgeous vanilla flavour!
We always get this when we find it, but it's not that easy nowadays...
Savoury Snacks
Wholefoods Popcorn
I often make popcorn when we get hungry but are bothered to cook :D
This is such an easy & delicious snack not only for movies but also for your little hungry tummy :)
Ketle Chips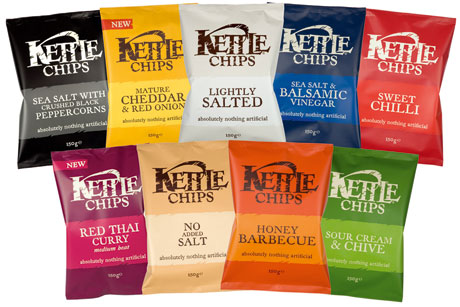 This crisp is loooovely :)
nb. Some flavours such as Balsamic Vinegar contains gluten.
So please check the label carefully before buying it :)
Tea
As David drinks more green tea than me - perhaps 5 cups a day!, we never fail to have plenty of teabags for green tea:)
We've tried some from supermarkets, but Twinings' pure green tea seems always the best so far in the UK!
But lately I'm in love with this decaffeinated Tick Tock's Organic Rooibos Green Tea, which relaxes me so much :)
Other cupboard food
Spam
hahaha
Well, I like Spam though David as well as some others seem they don't fancy it much :D But, spam is coeliac-friendly as it says "Gluten Free" on its label :D Usually as I can't use everything in one go, I cut in slices, wrap them separately - like 4 slices together × 3, and freeze them :) You should defrost them completely or boil before cooking!
Wasabi
I've seen some people on the Internet asking whether it's gluten-free or not, but seems it is! Also, David was fine when he tried - except his burning tongue as it was too potent for him :D
But you can enjoy it for sushi!, or mix with soy sauce and make delicious spicy sauce on meat or salad :)
Potatoes & Onions
We always store some baby potatoes & small onions :) I feel safe when we have some of them in our little onion bag! Because when our fridge is almost empty, we can just make baked potatoes or German-style fried potatoes :)
Ainsley Harriott World Kitchen Rice
This is a delicious time-saving meal when you are feeling dull to cook :D
nb. Other products (e.g. soups) from
Ainsley Harriott
contain gluten so please make sure by checking the label before purchasing them :)
What's in our fridge?
Meat
We've got minced beef & pork, bacon, diced chicken breast, and spam! :)
Except for
ASDA frozen chicken breast
, I get fresh meat, wrap them individually and freeze them on the day of purchase :)
Chips
We love McCain chips :) This is "
The Original Oven Chips
" (1.5kg)
Vegetables :
Frozen vegetables are so useful as we don't have to worry about them going bad and having to throw away :)
You can get already frozen ones but I also like to get fresh veggies & freeze
them after
properly pre-preparing for freezing them
:)
Cheese & ice cream!
For frozen grated cheese, once they are frozen, you never have to worry about "Use within 3 days" warnings :)
And ice cream :D We love
Swedish Glace's
! It's dairy, lactose, gluten and egg free :) We've only got tiny bit left in that box, but we keep it anyways cause it's so delicious!
Potato waffles
This is when you are getting tired of normal chips :)
You can toast them till golden brown in a toaster as well!
Fish Fingers
These are lovely frozen fish fingers! :) Apart from having them with chips, there is another way to enjoy :) You can put them together with lettuce, cucumber, mayonnaise, seaweed & some sesame seeds on seasoned rice to make a non-raw-fish sushi rolls! :)
Sausages
As many of the supermarket sausages contain gluten, we often get these to enjoy without worrying about coeliac disease :) But lately, we've been enjoying getting some of the few delicious gluten-free raw sausages - and of course, I freeze them as well :D
Basil
At last but not least, here's our Mr. Basil! He moved here with us from the co-op, and is growing very well by our kitchen window :D Since he grows quickly, I wash & dry, then freeze him in a zipper for later use :) *
* Perhaps I'm a rebel by freezing him as usually fresh soft herbs are not supposed to be frozen as it gets brown - like directed by
bbcgoodfood.com
, but you know, I just don't want to waste such precious things, and seems like it's still alright cooking with frozen basil anyways :)
Hooo :D So, these are the GF food stored in our kitchen at the moment!
Choosing what to get can often be difficult and worrisome when you or your partner, family members, or friends, have coeliac disease or allergies - I'm sure many of you might have already known this - but using some of the online food directories might help you ease your tension of choosing which products to get :)
Here is some of the useful ones :)
I hope you enjoyed it :)
Cheers!
xxxxx